Italian Cuisine: 28 Restaurants Found
Address: 231 South Broad Street, Philadelphia, PA 19107 (
Map
) - Tel:(215) 546-6800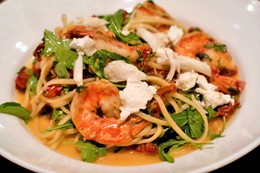 While a chic center city crowd travels the Avenue of the Arts, diners at Varalli sit back and take in the view.  While looking out ceiling-to-floor windows at the corner of Broad & Locust, diners can sample head chef William Carroll's selection of seafood classics fused with flecks of Northern Italy and the Mediterranean. The menu and the restaurant's playful decor boast a knack for seafood, but that doesn't mean those not so keen on sea fare should shy away - meats, pastas, salads and fresh vegetables are sure to dazzle carnivores and vegetarians alike. Add an accessible wine list and there is something for everyone to come back to at Varalli.
Address: 14 North Front Street, Philadelphia, PA 19106 (
Map
) - Tel:(215) 922-7800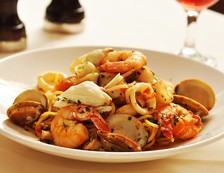 Ristorante Panorama's Italian grace and insouciance reigns throughout its airy, lively formal dining room and classy-casual wine bar within the Penn's View Hotel. Panorama's unerring renderings and savory interpretations of Italian classic cuisine soar even higher on bacchanal flights paired impeccably by sommelier. The restaurant's national oenophile pedigree owes to the 120 different wines available daily by the glass and its yearly tally of 800 different wines on the menu. These in combination with the homemade pastas, authentic veal dishes, and fresh seafood specialties create the perfect escape to the Northern Italian Region, no passport necessary.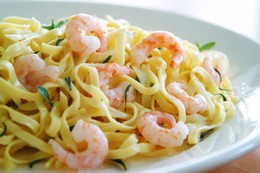 Tucked away on a not-so-traveled North Broad Street block lies Osteria, a glowing creation by the renowned Philadelphia Chef Marc Vetri. Service fit for kings and an ambience that spares not an ounce of luxury only begin to describe this experience. Dishes are rooted in the rolling hills of Tuscany, and guests may select from a non-traditional array of homemade Italian items, from crispy pizzas and pastas to meat and poultry dishes. An open kitchen greets patrons as they arrive while a full bar lined with a collection of wine corks beckons in the rear. Portions are small, but bursting with a zest that is sure to bring you back to Osteria again and again.
Address: 200 S. Broad Street, Philadelphia, PA 19102 (
Map
) - Tel:(215) 546-7256
This New York import was the tenth Palm to open nationwide and has since become a popular destination for diners including local celebrities. Located in the ornamented Bellevue Hotel building, the chic dining room walls are filled with portraits of local and national personalities. The menu consists of their infamous cheesecake, prime beef, jumbo lobsters, and authentic Italian entrees. At a restaurant that treats all guests like family, the Palm thrives on providing excellent meals at exceptional standards. Using traditional ingredients and simple recipes, this restaurant avoids culinary fads to bring its patrons an honest and satisfying dining experience.
Address: 8 S. Front Street, Philadelphia, PA 19106 (
Map
) - Tel:(215) 922-2803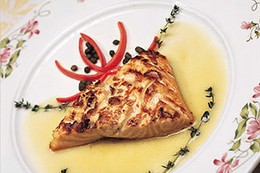 La Famiglia is located in Old City, Philadelphia, which is bustling with restaurants and nightlife. Started in 1976 by the Sena family, La Famiglia continues to deliver fine Italian cuisine served in one of Philadelphia's most opulent dining rooms. The menu takes a sophisticated twist on Italian classics, with entrees such as Vitello con Funghi Morel, veal medallions with marinated morel mushrooms in a Madeira demi-glace. The award winning wine list offers over 450 bottle options, in addition to the restaurant's full bar. La Famiglia proves an ideal venue for a special occasion, or an extravagant dining experience.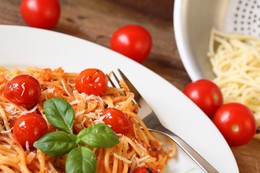 One of the hippest and hottest places in Philadelphia isn't exactly a nightclub, but more of a traditional restaurant with a twist. At Dolce, traditional table service and real Italian food are flipped with a very chic, modern, and dimly lit ambiance. When paired together, it's an Old-World meets New-World match made in heaven. Each dish, crafted by Italian chef Alfonso Valentino, is made with the freshest Italian ingredients and an attention to detail. They also offer options for private parties inside their banquet facilities. Grab a drink and some friends next time you want Italian food, because at Dolce, Italian is fabulous again.
Address: 1920 Chestnut Street, Philadelphia, PA 19103 (
Map
) - Tel:(215) 751-9913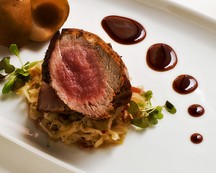 Delinquent account! This restaurant has an unpaid balance for our services. Unfortunately, it has been our experience that account delinquency is the result of an establishment's financial difficulties, which also commonly translate into a deterioration in service and food quality. As we have not been given the opportunity to assess the status of this restaurant, we cannot in good faith recommend it to our customers. While we can't currently endorse this venue, we are happy to suggest a number of other high quality restaurants to meet all your dining needs. Thank you for your understanding.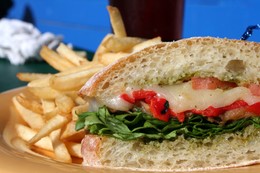 Awarded Philadelphia Magazine's "Best of Philly" in 2008, owners Louis Sarcrone Jr. and Anothony Bucci have had a huge success since their opening in 1997. The deli is located just 50 feet from the bakery where all of the award winning bread is made. Campo's Deli has a variety of daily specials and soups you can choose from. They are well known for their "Hoagies" filled with top Italian meats in their signature fresh baked bread. They are located on South 9th Street with comfortable indoor seating. If you're looking for a great casual home style sandwich, come to Sarcone's.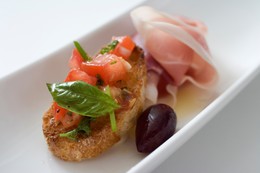 Located in Philadelphia's Rittenhouse Square, Tria Wine Bar and Café serves a large variety of specialty wines, beers, and cheeses-- many of which are hand crafted. Not sure how to navigate the restaurant's extensive wine list, knowledgeable staff is always available to help. Tria's menu is stocked full of inventive contemporary flavors and ingredients. Their fresh take on classics like paninis, snacks, and bruschetta is by very definition refreshing. Tria even hosts a happy hour several nights a week where guests can sample 2 wines, 2 beers, and an artisan cheese. This casual and relaxed Philadelphia favorite even features "Sunday School", where patrons can try different wines, beers, and cheeses while simultaneously learning about them. Come experience Tria and try something new.
Address: 2500 S. Broad Street, Philadelphia, PA 19145 (
Map
) - Tel:(215) 468-3900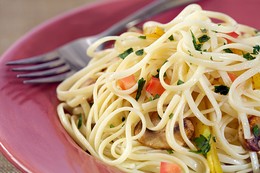 Cozy and contemporary, Scannicchio's can be an ideal choice for authentic Italian comfort food. Located in South Philadelphia, Scannicchio's has been feeding the hungry public since 2003. With friendly service and an attention to detail in mind, this BYOB eatery consistently graces the top of local reader's polls. Serving up warm, fresh dishes such as Sausage and Figs, Stuffed Calamari, and Chicken Parmesan, Scannicchio's boasts that their fan base is always expanding in allegiance. They offer options for catering any private event, and are open for dinner seven days of the week. Come and taste what all the hype is about.