Lunch: 109 Restaurants Found
Address: 1126 Walnut Street, Philadelphia, PA 19107 (
Map
) - Tel:(215) 625-9535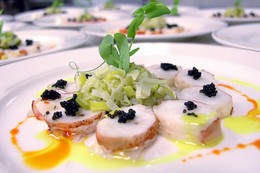 Only a few strides removed from the Forrest Theater in the gentrified neighborhood of Wash West, the Caribou Café corrals a hip mix of city crawlers, theater goers, local and national personalities, and plain old Philly folk. The festive décor in this vibrant slice of France frames the intoxicating upbeat insouciance that replicates the spirit and verve of the real-deal French café. The moderately priced menu focuses on regional everyday French standbys while simultaneously providing a gastronomic tour of France. Diverse delights from Alsace to Provence tempt the palate – all interpreted delectably by Maitre Cuisinier de France, Olivier Desaintmartin.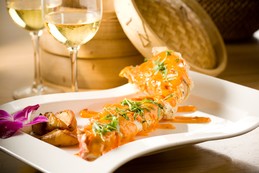 Iron Chef Masaharu Morimoto brings high end Japanese cuisine, served in a breathtaking environment to Philly's Washington Square West. The restaurant's extensive menu features diverse offerings from high quality sushi and sashimi to traditional Japanese entrees (think Ishi Taki Bop) to contemporary cuisine like the Black Cod Miso. The ultramodern atmosphere with its dramatic nautical curves and out of this world lighting provides a stunning setting for anything from a business meeting to a girl's night out. At Morimoto guests are encouraged to enjoy a uniquely crafted meal, designed by a seasoned master and served amid fantastic decor.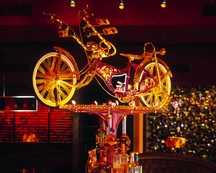 Stephen Starr, Philadelphia's most creative and successful restaurateur, has mastered the fine art of fun and phenomenal American-Mexican cuisine with his new haunt on 13th Street. Tacos get a facelift, desserts steal the show, fresh and flavorful margaritas keep the bar hopping, and made-to-order guacamole has the Philadelphia masses flocking through the doors all year long, but this isn't your typical Mexican joint. Vibrant, inventive and bursting with flavor, El Vez is an eye-opening experience far from the edible ordinary.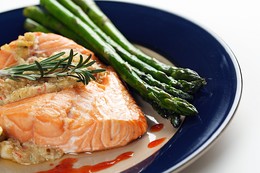 The building that houses Davio's Northern Italian Steakhouse was originally Philadelphia's historic Provident Bank building. Today, the building keeps its remarkable architecture, boasting dramatic arched windows that draw in natural lighting, sweeping ceilings and gleaming, polished wood. This Rittenhouse Square locale gives Davio's the ideal setting to serve up a menu that blends prime cuts of Brandt beef with classic pasta and seafood dishes of Northern Italy. All of this is complemented by an award winning wine list and superior service, making Davio's one of Philadelphia's premier places to enjoy steak and so much more.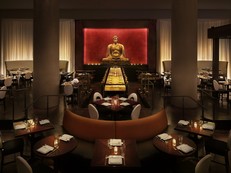 Exuding Zen-like swank and sunny swagger, Buddakan beckons foodies and scene-seekers alike. In 1998, Buddakan added drama and daring dining to Philly's historical district in Old City. Today, this cosmopolitan small-plate emporium is a major player in the scene – a de rigeur stop for celebrities, savvy tourists, and local devotees. The glamorous digs with the iconic 10-foot high gilded Buddha statue, silky walls, soaring ceilings, glamorous décor, and flowing water wall whirls with an irrepressible kinetic vibe, an Asian-centric slate of irresistible dishes, and one of the city's hippest staff of servers.
Address: 1500 Walnut Street, Philadelphia, PA 19102 (
Map
) - Tel:(215) 732-4444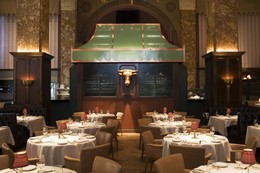 While Butcher and Singer invites comparisons to the finest steakhouses across America, this Philadelphia eatery is in a class by itself. With plush surroundings and unmatched service, Stephen Starr's newest venture delivers sumptuous dishes along with an unforgettable dining experience. Patrons are treated to a transformative meal in the well-appointed dining room and a wait staff that does more than simply serve; they contribute to the overall atmosphere of indulgence and enjoyment. One glance at Butcher and Singer's menu reveals that Chef Anthony Goodwin has achieved a rare balance between traditional and modern, while never straying from the highest culinary standards.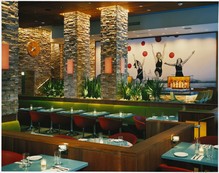 Sit in cozy avocado-colored booths or in the pleather swivel chairs of yesteryear, with a background of cherry wood, framing stacked stone brick walls reminiscent of the Brady Bunch. Enjoy a tasty soda pop or order a "cool" cocktail such as Proud Mary, Hound Dog, or Cloud Nine. Choose from comfort foods like Baked Mac and Cheese, Thanksgiving Dinner, Meatloaf, or a Vegetarian Shepherd's Pie. Have smaller fare such as Tomato Soup with grilled cheese or a Tuna Melt on rye. Step back in time to the 1970s, near Independence Mall, where the history of the 1770s abounds. Book over to Jones at 700 Chestnut Street, and take in a dining trip suitable for couples, families, and trendy single hipsters.
Address: 14 North Front Street, Philadelphia, PA 19106 (
Map
) - Tel:(215) 922-7800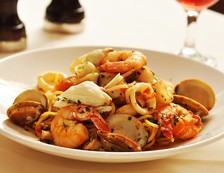 Ristorante Panorama's Italian grace and insouciance reigns throughout its airy, lively formal dining room and classy-casual wine bar within the Penn's View Hotel. Panorama's unerring renderings and savory interpretations of Italian classic cuisine soar even higher on bacchanal flights paired impeccably by sommelier. The restaurant's national oenophile pedigree owes to the 120 different wines available daily by the glass and its yearly tally of 800 different wines on the menu. These in combination with the homemade pastas, authentic veal dishes, and fresh seafood specialties create the perfect escape to the Northern Italian Region, no passport necessary.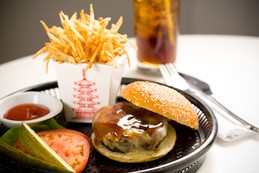 Restaurateur Stephen Starr's vision of the future burns bright in the University City section of Philadelphia where Pod dishes out Asian fusion cuisine in an atmosphere that is a playful cross between Stanley Kubrick's 2001: A Space Odyssey and The Jetsons. Fresh sushi, dim sum, and full entrees are served in Pod's sleek, high-tech dining space. The restaurant's glossy, pure white interior, accentuated by concentric circles of blue, orange, and purple lighting and flooded with the pulse of ambient music, boldly transports patrons to a culinary destination that is truly ahead of its time.
Address: 2400 Market Street, Philadelphia, PA 19103 (
Map
) - Tel:(215) 569-9269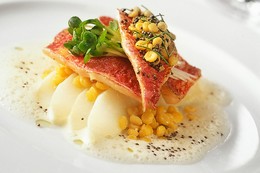 Before Patou came to Old City with its ultra-hip appeal, Patrice Rames already had a Philadelphia success nestled atop the Marketplace Design Center in Center City. Since 1987, Patou's sister restaurant Bistro St. Tropez has been serving Philadelphia foodies the finest of French food, and has given five-star French spots some stiff competition. In Bistro St. Tropez you will find the illusion of Provence amidst simple elegance, classic French cuisine, and a predominately French wine selection—all presented with Rames's signature classic style that gives Philly a true taste of France.