Yardley Inn - Restaurant Review
Enjoy a cold cocktail—and seasonally, a warm fire—while watching the sunset over the Delaware River. In the summer, sit on the patio, and watch the calming river while munching candied walnuts atop a crisp Marguerita Salad. Please a selective palate with an atmosphere that offers choice: dress up, dress down; eat light, eat full; dine fancy or relax in an over-stuffed chair in the plush, yet relaxing, lounge. Satisfy mom's flavor for flounder, a cousin's craving for crabcakes, and still get your monthly mignon. Try the Yardley Inn, where classy contemporary is really choice.
Online Reservations:

Book Table - It's Quick, Easy & FREE
Recommended Restaurants
Address: 4 Lakeview Dr. S., Gibbsboro, NJ 8026 (
Map
) - Tel:(856) 566-7300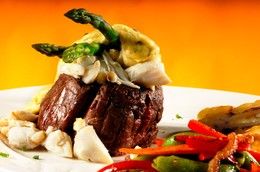 The ChopHouse is a very chic restaurant featured in red brick building that offers fresh steak and seafood. Executive Chef Markese Beverly always creates interesting dishes and enjoys a big catch of the day. Patrons are seated in elegant booths while waiters attend to every need. The lounge is a great place to get drinks with numerous cocktail choices on the wall. Semi and private parties are encouraged as the rooms can accommodate up to 200 people. Reservations are recommended upon request.
Address: 231 South Broad Street, Philadelphia, PA 19107 (
Map
) - Tel:(215) 546-6800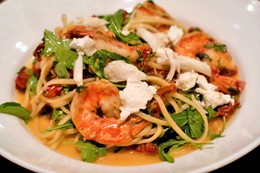 While a chic center city crowd travels the Avenue of the Arts, diners at Varalli sit back and take in the view.  While looking out ceiling-to-floor windows at the corner of Broad & Locust, diners can sample head chef William Carroll's selection of seafood classics fused with flecks of Northern Italy and the Mediterranean. The menu and the restaurant's playful decor boast a knack for seafood, but that doesn't mean those not so keen on sea fare should shy away - meats, pastas, salads and fresh vegetables are sure to dazzle carnivores and vegetarians alike. Add an accessible wine list and there is something for everyone to come back to at Varalli.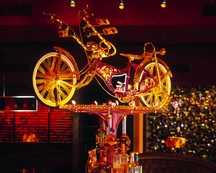 Stephen Starr, Philadelphia's most creative and successful restaurateur, has mastered the fine art of fun and phenomenal American-Mexican cuisine with his new haunt on 13th Street. Tacos get a facelift, desserts steal the show, fresh and flavorful margaritas keep the bar hopping, and made-to-order guacamole has the Philadelphia masses flocking through the doors all year long, but this isn't your typical Mexican joint. Vibrant, inventive and bursting with flavor, El Vez is an eye-opening experience far from the edible ordinary.
---