Yardley Inn - Restaurant Review
Enjoy a cold cocktail—and seasonally, a warm fire—while watching the sunset over the Delaware River. In the summer, sit on the patio, and watch the calming river while munching candied walnuts atop a crisp Marguerita Salad. Please a selective palate with an atmosphere that offers choice: dress up, dress down; eat light, eat full; dine fancy or relax in an over-stuffed chair in the plush, yet relaxing, lounge. Satisfy mom's flavor for flounder, a cousin's craving for crabcakes, and still get your monthly mignon. Try the Yardley Inn, where classy contemporary is really choice.
Online Reservations:

Book Table - It's Quick, Easy & FREE
Recommended Restaurants
Address: 237 South 18th Street, Philadelphia, PA 19103 (
Map
) - Tel:(215) 732-7560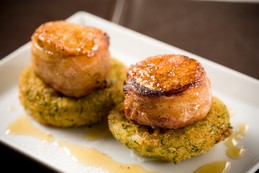 Located inside the posh Barclay residence on Rittenhouse Square, Barclay Prime is Philadelphia restaurateur Stephen Starr's steakhouse concept. The upscale steakhouse is both classic and contemporary; while the walls are lined with old-fashioned bookshelves, the chairs are utterly modern, designed in bright green and white leather. The same goes for the menu, which offers traditional signature steaks like dry aged rib eye and New York strip, alongside more creative, fun items like kobe beef sliders and tater tots. With the swanky décor, decadent menu, and first-class service, Barclay Prime is the perfect spot for a special evening.
Address: 1500 Walnut Street, Philadelphia, PA 19102 (
Map
) - Tel:(215) 732-4444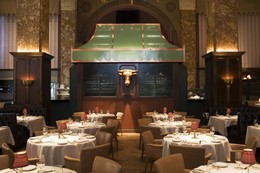 While Butcher and Singer invites comparisons to the finest steakhouses across America, this Philadelphia eatery is in a class by itself. With plush surroundings and unmatched service, Stephen Starr's newest venture delivers sumptuous dishes along with an unforgettable dining experience. Patrons are treated to a transformative meal in the well-appointed dining room and a wait staff that does more than simply serve; they contribute to the overall atmosphere of indulgence and enjoyment. One glance at Butcher and Singer's menu reveals that Chef Anthony Goodwin has achieved a rare balance between traditional and modern, while never straying from the highest culinary standards.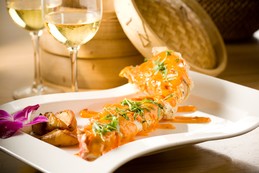 Iron Chef Masaharu Morimoto brings high end Japanese cuisine, served in a breathtaking environment to Philly's Washington Square West. The restaurant's extensive menu features diverse offerings from high quality sushi and sashimi to traditional Japanese entrees (think Ishi Taki Bop) to contemporary cuisine like the Black Cod Miso. The ultramodern atmosphere with its dramatic nautical curves and out of this world lighting provides a stunning setting for anything from a business meeting to a girl's night out. At Morimoto guests are encouraged to enjoy a uniquely crafted meal, designed by a seasoned master and served amid fantastic decor.
---