Yardley Inn - Restaurant Review
Enjoy a cold cocktail—and seasonally, a warm fire—while watching the sunset over the Delaware River. In the summer, sit on the patio, and watch the calming river while munching candied walnuts atop a crisp Marguerita Salad. Please a selective palate with an atmosphere that offers choice: dress up, dress down; eat light, eat full; dine fancy or relax in an over-stuffed chair in the plush, yet relaxing, lounge. Satisfy mom's flavor for flounder, a cousin's craving for crabcakes, and still get your monthly mignon. Try the Yardley Inn, where classy contemporary is really choice.
Online Reservations:

Book Table - It's Quick, Easy & FREE
Recommended Restaurants
Address: 231 South Broad Street, Philadelphia, PA 19107 (
Map
) - Tel:(215) 546-6800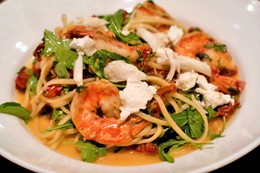 While a chic center city crowd travels the Avenue of the Arts, diners at Varalli sit back and take in the view.  While looking out ceiling-to-floor windows at the corner of Broad & Locust, diners can sample head chef William Carroll's selection of seafood classics fused with flecks of Northern Italy and the Mediterranean. The menu and the restaurant's playful decor boast a knack for seafood, but that doesn't mean those not so keen on sea fare should shy away - meats, pastas, salads and fresh vegetables are sure to dazzle carnivores and vegetarians alike. Add an accessible wine list and there is something for everyone to come back to at Varalli.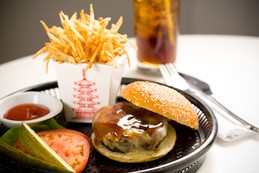 Restaurateur Stephen Starr's vision of the future burns bright in the University City section of Philadelphia where Pod dishes out Asian fusion cuisine in an atmosphere that is a playful cross between Stanley Kubrick's 2001: A Space Odyssey and The Jetsons. Fresh sushi, dim sum, and full entrees are served in Pod's sleek, high-tech dining space. The restaurant's glossy, pure white interior, accentuated by concentric circles of blue, orange, and purple lighting and flooded with the pulse of ambient music, boldly transports patrons to a culinary destination that is truly ahead of its time.
Address: 1126 Walnut Street, Philadelphia, PA 19107 (
Map
) - Tel:(215) 625-9535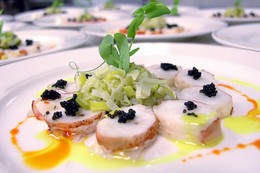 Only a few strides removed from the Forrest Theater in the gentrified neighborhood of Wash West, the Caribou Café corrals a hip mix of city crawlers, theater goers, local and national personalities, and plain old Philly folk. The festive décor in this vibrant slice of France frames the intoxicating upbeat insouciance that replicates the spirit and verve of the real-deal French café. The moderately priced menu focuses on regional everyday French standbys while simultaneously providing a gastronomic tour of France. Diverse delights from Alsace to Provence tempt the palate – all interpreted delectably by Maitre Cuisinier de France, Olivier Desaintmartin.
---