Prix Fixe Menu: 33 Restaurants Found
Address: 1126 Walnut Street, Philadelphia, PA 19107 (
Map
) - Tel:(215) 625-9535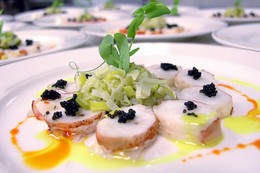 Only a few strides removed from the Forrest Theater in the gentrified neighborhood of Wash West, the Caribou Café corrals a hip mix of city crawlers, theater goers, local and national personalities, and plain old Philly folk. The festive décor in this vibrant slice of France frames the intoxicating upbeat insouciance that replicates the spirit and verve of the real-deal French café. The moderately priced menu focuses on regional everyday French standbys while simultaneously providing a gastronomic tour of France. Diverse delights from Alsace to Provence tempt the palate – all interpreted delectably by Maitre Cuisinier de France, Olivier Desaintmartin.
Address: 231 South Broad Street, Philadelphia, PA 19107 (
Map
) - Tel:(215) 546-6800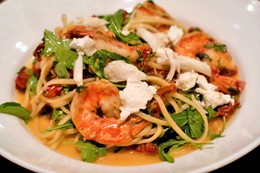 While a chic center city crowd travels the Avenue of the Arts, diners at Varalli sit back and take in the view.  While looking out ceiling-to-floor windows at the corner of Broad & Locust, diners can sample head chef William Carroll's selection of seafood classics fused with flecks of Northern Italy and the Mediterranean. The menu and the restaurant's playful decor boast a knack for seafood, but that doesn't mean those not so keen on sea fare should shy away - meats, pastas, salads and fresh vegetables are sure to dazzle carnivores and vegetarians alike. Add an accessible wine list and there is something for everyone to come back to at Varalli.
Nestled into its charming Midtown Village locale, Olivier Desaintmartin's second Philadelphia feat, Zinc, is the essence of class meets comfort. In a city filled with attempts at the French bistro, Desaintmartin sets this 11th street gem above the rest by offering unfussy bistro classics and an exclusively French wine selection. Zinc offers diners the rare chance to feel right at home with a dining room décor that features exposed brick, dark polished wood, bistro chalkboards and authentic Parisian paintings. Complete with a knowledgeable and friendly staff, Zinc's quaint, romantic appeal is reminiscent of a true bistro a vins one might find during a spontaneous stroll through Ol' Paris.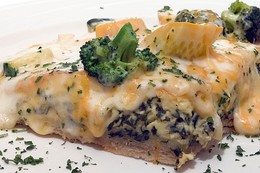 Marrakesh endows patrons with an authentic Moroccan feast, fused with a traditional Moroccan family home setting in the Society Hill District. Accented with imported rugs, vibrant-colored pillows, and sweet incense, the banquet room encompasses everything that is Moroccan decor, allowing guest to lounge in a tranquil environment at a communal table among other diners or a private table. A seven course dining experience, Marrakesh's menu features arrangement of illustrious Moroccan dishes, which will satisfy guest's craving for authentic Mediterranean fare. For a reasonable price, patrons can pamper their palates with Tajine of Lamb with Almonds and Honey or Couscons Grand Atlas Topped with Vegetables. Guests will end their meal with a basket of fresh fruits and hot mint tea paired with pastries, which brings the Moroccan experience at Marrakesh to a full circle accompanied with an appeased appetite.
Address: 2400 Market Street, Philadelphia, PA 19103 (
Map
) - Tel:(215) 569-9269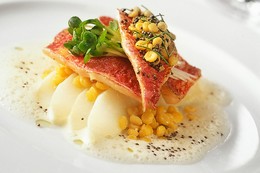 Before Patou came to Old City with its ultra-hip appeal, Patrice Rames already had a Philadelphia success nestled atop the Marketplace Design Center in Center City. Since 1987, Patou's sister restaurant Bistro St. Tropez has been serving Philadelphia foodies the finest of French food, and has given five-star French spots some stiff competition. In Bistro St. Tropez you will find the illusion of Provence amidst simple elegance, classic French cuisine, and a predominately French wine selection—all presented with Rames's signature classic style that gives Philly a true taste of France.
Address: 10 South 2nd Street, Philadelphia, PA 19106 (
Map
) - Tel:(215) 627-0666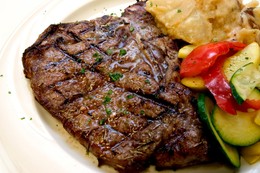 With its kitschy theme park decor and its hip Latin beats, Old City's Cuba Libre is all about the ambiance. The elaborately designed space – with its tall palms and wrought-iron balconies – was built to resemble an outdoor café in Cuba circa 1940. The restaurant's menu combines "Nuevo Cubano" dishes alongside traditional Cuban cuisine. From the tasty mango butter spread accompanying the bread to the juicy Guava BBQ Rib entrée, this Latin feast will be an experience all its own. The endless variety of Cuban rums and a tasty selection of mojitos, Cuba Libre's specialty drinks, won't disappoint either!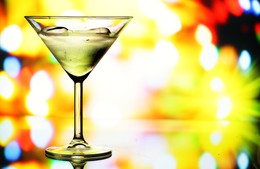 Located in Philadelphia's Olde City, TRUST event center is a cutting edge venue that doubles as an art gallery. The event space is unique and serves as a great back drop for any party, wedding, corporate event, or luncheon. This one of a kind location is nestled in with some of Philadelphia's beloved colonial attractions. TRUST blends the old world with the new by showcasing its historic roots on the outside, with current emerging artwork adorning its interior walls. This building is as architecturally beautiful as it is sound. The building's grandeur is further enhanced by the inlaid hard wood oak floors, crystal chandeliers, and wrap around marble balcony. Events here are nothing short of spectacular and opulent.
Address: 2619 E. Indiana Avenue, Philadelphia, PA 19134 (
Map
) - Tel:(267) 234-7905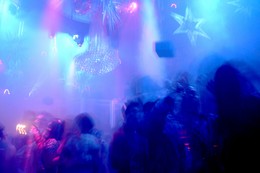 Philadelphia's Richmond Hall is among the city's most elegant locations to host an event available for weddings, parties, banquets, and more. Originally a church, Richmond Hall is complete with hard wood floors, cathedral ceilings, and an iron balcony. The stylish space within the hall where all of these events take place, known as the crystal room, holds multiple extravagant crystal chandeliers that light up the space. Richmond Hall offers event planning and catering services with an extensive Italian-inspired menu, and prides itself on being a company that provides affordable elegance.
Address: 2500 S. Broad Street, Philadelphia, PA 19145 (
Map
) - Tel:(215) 468-3900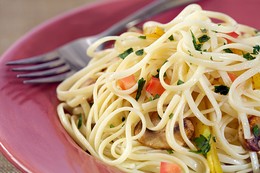 Cozy and contemporary, Scannicchio's can be an ideal choice for authentic Italian comfort food. Located in South Philadelphia, Scannicchio's has been feeding the hungry public since 2003. With friendly service and an attention to detail in mind, this BYOB eatery consistently graces the top of local reader's polls. Serving up warm, fresh dishes such as Sausage and Figs, Stuffed Calamari, and Chicken Parmesan, Scannicchio's boasts that their fan base is always expanding in allegiance. They offer options for catering any private event, and are open for dinner seven days of the week. Come and taste what all the hype is about.