Winning Wine List: 26 Restaurants Found
Nestled into its charming Midtown Village locale, Olivier Desaintmartin's second Philadelphia feat, Zinc, is the essence of class meets comfort. In a city filled with attempts at the French bistro, Desaintmartin sets this 11th street gem above the rest by offering unfussy bistro classics and an exclusively French wine selection. Zinc offers diners the rare chance to feel right at home with a dining room décor that features exposed brick, dark polished wood, bistro chalkboards and authentic Parisian paintings. Complete with a knowledgeable and friendly staff, Zinc's quaint, romantic appeal is reminiscent of a true bistro a vins one might find during a spontaneous stroll through Ol' Paris.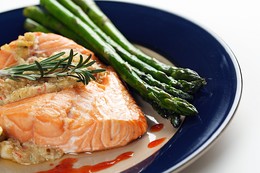 The building that houses Davio's Northern Italian Steakhouse was originally Philadelphia's historic Provident Bank building. Today, the building keeps its remarkable architecture, boasting dramatic arched windows that draw in natural lighting, sweeping ceilings and gleaming, polished wood. This Rittenhouse Square locale gives Davio's the ideal setting to serve up a menu that blends prime cuts of Brandt beef with classic pasta and seafood dishes of Northern Italy. All of this is complemented by an award winning wine list and superior service, making Davio's one of Philadelphia's premier places to enjoy steak and so much more.
Address: 1623 Walnut Street, Philadelphia, PA 19103 (
Map
) - Tel:(215) 988-1799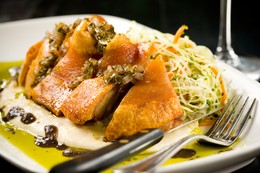 Alma de Cuba is a Latin vacation, right in the heart of Philadelphia. Located at 1623 Walnut Street, it's a perfect destination to pop into on the way home from work or for an elegant dinner. The lounge evokes sultry Miami nightlife with a mix of classic Cuban and contemporary elements including traditional drinks such as Caipirinhas and Classic Mojitos, which are always specially priced for Happy Hour. Upstairs, the balcony-style seating and classic décor promise a mellow and sophisticated ambiance. Chef Rodriguez adds novel twists to old world Cuban standards in his "Nuevo Latino" creations, such as Pan Roasted Muscovy Duck, Lobster Sancocho, and Lechon Asado. Plainly put, their just isn't any other place quite like Alma de Cuba.
Address: 237 South 18th Street, Philadelphia, PA 19103 (
Map
) - Tel:(215) 732-7560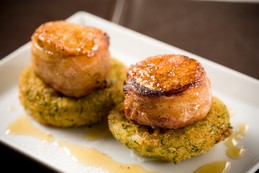 Located inside the posh Barclay residence on Rittenhouse Square, Barclay Prime is Philadelphia restaurateur Stephen Starr's steakhouse concept. The upscale steakhouse is both classic and contemporary; while the walls are lined with old-fashioned bookshelves, the chairs are utterly modern, designed in bright green and white leather. The same goes for the menu, which offers traditional signature steaks like dry aged rib eye and New York strip, alongside more creative, fun items like kobe beef sliders and tater tots. With the swanky décor, decadent menu, and first-class service, Barclay Prime is the perfect spot for a special evening.
Address: 14 North Front Street, Philadelphia, PA 19106 (
Map
) - Tel:(215) 922-7800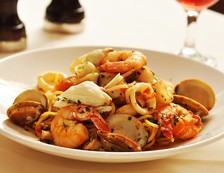 Ristorante Panorama's Italian grace and insouciance reigns throughout its airy, lively formal dining room and classy-casual wine bar within the Penn's View Hotel. Panorama's unerring renderings and savory interpretations of Italian classic cuisine soar even higher on bacchanal flights paired impeccably by sommelier. The restaurant's national oenophile pedigree owes to the 120 different wines available daily by the glass and its yearly tally of 800 different wines on the menu. These in combination with the homemade pastas, authentic veal dishes, and fresh seafood specialties create the perfect escape to the Northern Italian Region, no passport necessary.
Address: 4 Lakeview Dr. S., Gibbsboro, NJ 8026 (
Map
) - Tel:(856) 566-7300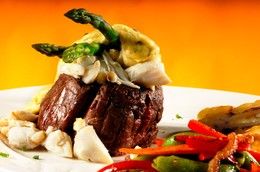 The ChopHouse is a very chic restaurant featured in red brick building that offers fresh steak and seafood. Executive Chef Markese Beverly always creates interesting dishes and enjoys a big catch of the day. Patrons are seated in elegant booths while waiters attend to every need. The lounge is a great place to get drinks with numerous cocktail choices on the wall. Semi and private parties are encouraged as the rooms can accommodate up to 200 people. Reservations are recommended upon request.
Address: 200 S. Broad Street, Philadelphia, PA 19102 (
Map
) - Tel:(215) 546-7256
This New York import was the tenth Palm to open nationwide and has since become a popular destination for diners including local celebrities. Located in the ornamented Bellevue Hotel building, the chic dining room walls are filled with portraits of local and national personalities. The menu consists of their infamous cheesecake, prime beef, jumbo lobsters, and authentic Italian entrees. At a restaurant that treats all guests like family, the Palm thrives on providing excellent meals at exceptional standards. Using traditional ingredients and simple recipes, this restaurant avoids culinary fads to bring its patrons an honest and satisfying dining experience.
Address: 210 West Rittenhouse Square, Philadelphia, PA 19103 (
Map
) - Tel:(215) 545-1700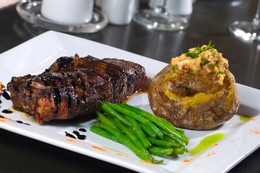 Part of a family of steakhouses committed to quality, Smith & Wollensky is founded on a tradition of excellence. At the Philadelphia location, Executive Chef Patrick Dwyer partakes in Smith & Wollensky tradition, hand-butchering and dry aging USDA Prime beef on premises. Whether feasting on Dwyer's steaks or opting for fresh seafood or other Smith & Wollensky classics, diners are promised an extravagant experience. The two-story restaurant, located inside the Rittenhouse Hotel, offers a classic setting paired with stunning views of Rittenhouse Square.
Address: 1426 Chestnut Street, Philadelphia, PA 19106 (
Map
) - Tel:(215) 246-0533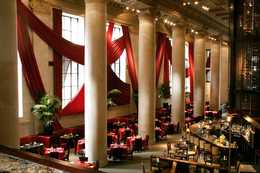 Del Frisco's Double Eagle Steakhouse creates a world apart from the rest of Philadelphia's big name steakhouses by infusing the dining experience with Old-World elegance and glamour. From the cloth-draped columns to sky-high ceilings, one step inside the restaurant showcases how majestic a meal can be-- given the right chef and a commitment to fine dining. Serving up premium steaks and seafood is always done with the utmost quality. Leaving no corner of steakhouse cuisine untouched, Del Frisco's explores classic American fare with a passion for excess and delivers an unforgettable evening in the comfort of its plush surroundings.
Address: 8 S. Front Street, Philadelphia, PA 19106 (
Map
) - Tel:(215) 922-2803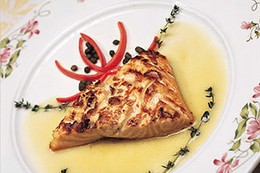 La Famiglia is located in Old City, Philadelphia, which is bustling with restaurants and nightlife. Started in 1976 by the Sena family, La Famiglia continues to deliver fine Italian cuisine served in one of Philadelphia's most opulent dining rooms. The menu takes a sophisticated twist on Italian classics, with entrees such as Vitello con Funghi Morel, veal medallions with marinated morel mushrooms in a Madeira demi-glace. The award winning wine list offers over 450 bottle options, in addition to the restaurant's full bar. La Famiglia proves an ideal venue for a special occasion, or an extravagant dining experience.