[?]

Del Frisco's Double Eagle Steakhouse
1426 Chestnut Street
,
Philadelphia
,
PA
19106
(
Map
) - Tel:
(215) 246-0533
Del Frisco's Double Eagle Steakhouse - Wine List
Del Frisco's Double Eagle Steakhouse wine list is not available.

Recommended Restaurants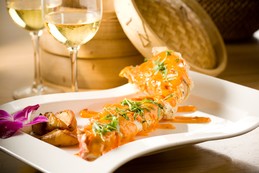 Iron Chef Masaharu Morimoto brings high end Japanese cuisine, served in a breathtaking environment to Philly's Washington Square West. The restaurant's extensive menu features diverse offerings from high quality sushi and sashimi to traditional Japanese entrees (think Ishi Taki Bop) to contemporary cuisine like the Black Cod Miso. The ultramodern atmosphere with its dramatic nautical curves and out of this world lighting provides a stunning setting for anything from a business meeting to a girl's night out. At Morimoto guests are encouraged to enjoy a uniquely crafted meal, designed by a seasoned master and served amid fantastic decor.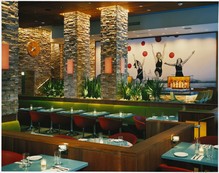 Sit in cozy avocado-colored booths or in the pleather swivel chairs of yesteryear, with a background of cherry wood, framing stacked stone brick walls reminiscent of the Brady Bunch. Enjoy a tasty soda pop or order a "cool" cocktail such as Proud Mary, Hound Dog, or Cloud Nine. Choose from comfort foods like Baked Mac and Cheese, Thanksgiving Dinner, Meatloaf, or a Vegetarian Shepherd's Pie. Have smaller fare such as Tomato Soup with grilled cheese or a Tuna Melt on rye. Step back in time to the 1970s, near Independence Mall, where the history of the 1770s abounds. Book over to Jones at 700 Chestnut Street, and take in a dining trip suitable for couples, families, and trendy single hipsters.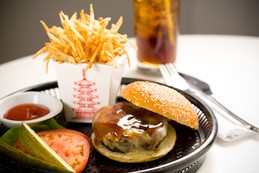 Restaurateur Stephen Starr's vision of the future burns bright in the University City section of Philadelphia where Pod dishes out Asian fusion cuisine in an atmosphere that is a playful cross between Stanley Kubrick's 2001: A Space Odyssey and The Jetsons. Fresh sushi, dim sum, and full entrees are served in Pod's sleek, high-tech dining space. The restaurant's glossy, pure white interior, accentuated by concentric circles of blue, orange, and purple lighting and flooded with the pulse of ambient music, boldly transports patrons to a culinary destination that is truly ahead of its time.