Ted's Montana Grill - Wine List
Ted's Montana Grill wine list is not available.

Recommended Restaurants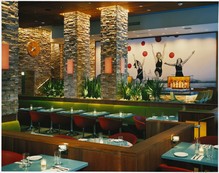 Sit in cozy avocado-colored booths or in the pleather swivel chairs of yesteryear, with a background of cherry wood, framing stacked stone brick walls reminiscent of the Brady Bunch. Enjoy a tasty soda pop or order a "cool" cocktail such as Proud Mary, Hound Dog, or Cloud Nine. Choose from comfort foods like Baked Mac and Cheese, Thanksgiving Dinner, Meatloaf, or a Vegetarian Shepherd's Pie. Have smaller fare such as Tomato Soup with grilled cheese or a Tuna Melt on rye. Step back in time to the 1970s, near Independence Mall, where the history of the 1770s abounds. Book over to Jones at 700 Chestnut Street, and take in a dining trip suitable for couples, families, and trendy single hipsters.
Address: 1623 Walnut Street, Philadelphia, PA 19103 (
Map
) - Tel:(215) 988-1799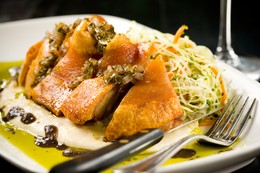 Alma de Cuba is a Latin vacation, right in the heart of Philadelphia. Located at 1623 Walnut Street, it's a perfect destination to pop into on the way home from work or for an elegant dinner. The lounge evokes sultry Miami nightlife with a mix of classic Cuban and contemporary elements including traditional drinks such as Caipirinhas and Classic Mojitos, which are always specially priced for Happy Hour. Upstairs, the balcony-style seating and classic décor promise a mellow and sophisticated ambiance. Chef Rodriguez adds novel twists to old world Cuban standards in his "Nuevo Latino" creations, such as Pan Roasted Muscovy Duck, Lobster Sancocho, and Lechon Asado. Plainly put, their just isn't any other place quite like Alma de Cuba.
Address: 4 Lakeview Dr. S., Gibbsboro, NJ 8026 (
Map
) - Tel:(856) 566-7300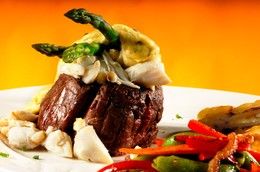 The ChopHouse is a very chic restaurant featured in red brick building that offers fresh steak and seafood. Executive Chef Markese Beverly always creates interesting dishes and enjoys a big catch of the day. Patrons are seated in elegant booths while waiters attend to every need. The lounge is a great place to get drinks with numerous cocktail choices on the wall. Semi and private parties are encouraged as the rooms can accommodate up to 200 people. Reservations are recommended upon request.