The Capital Grille - Wine List
The Capital Grille wine list is not available.

Recommended Restaurants
Address: 2400 Market Street, Philadelphia, PA 19103 (
Map
) - Tel:(215) 569-9269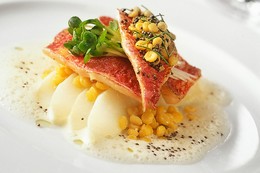 Before Patou came to Old City with its ultra-hip appeal, Patrice Rames already had a Philadelphia success nestled atop the Marketplace Design Center in Center City. Since 1987, Patou's sister restaurant Bistro St. Tropez has been serving Philadelphia foodies the finest of French food, and has given five-star French spots some stiff competition. In Bistro St. Tropez you will find the illusion of Provence amidst simple elegance, classic French cuisine, and a predominately French wine selection—all presented with Rames's signature classic style that gives Philly a true taste of France.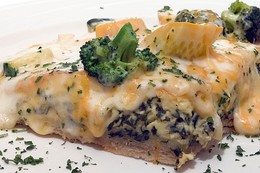 Marrakesh endows patrons with an authentic Moroccan feast, fused with a traditional Moroccan family home setting in the Society Hill District. Accented with imported rugs, vibrant-colored pillows, and sweet incense, the banquet room encompasses everything that is Moroccan decor, allowing guest to lounge in a tranquil environment at a communal table among other diners or a private table. A seven course dining experience, Marrakesh's menu features arrangement of illustrious Moroccan dishes, which will satisfy guest's craving for authentic Mediterranean fare. For a reasonable price, patrons can pamper their palates with Tajine of Lamb with Almonds and Honey or Couscons Grand Atlas Topped with Vegetables. Guests will end their meal with a basket of fresh fruits and hot mint tea paired with pastries, which brings the Moroccan experience at Marrakesh to a full circle accompanied with an appeased appetite.
Address: 231 South Broad Street, Philadelphia, PA 19107 (
Map
) - Tel:(215) 546-6800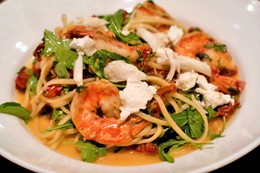 While a chic center city crowd travels the Avenue of the Arts, diners at Varalli sit back and take in the view.  While looking out ceiling-to-floor windows at the corner of Broad & Locust, diners can sample head chef William Carroll's selection of seafood classics fused with flecks of Northern Italy and the Mediterranean. The menu and the restaurant's playful decor boast a knack for seafood, but that doesn't mean those not so keen on sea fare should shy away - meats, pastas, salads and fresh vegetables are sure to dazzle carnivores and vegetarians alike. Add an accessible wine list and there is something for everyone to come back to at Varalli.