The Capital Grille - Wine List
The Capital Grille wine list is not available.

Recommended Restaurants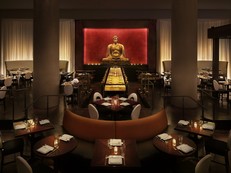 Exuding Zen-like swank and sunny swagger, Buddakan beckons foodies and scene-seekers alike. In 1998, Buddakan added drama and daring dining to Philly's historical district in Old City. Today, this cosmopolitan small-plate emporium is a major player in the scene – a de rigeur stop for celebrities, savvy tourists, and local devotees. The glamorous digs with the iconic 10-foot high gilded Buddha statue, silky walls, soaring ceilings, glamorous décor, and flowing water wall whirls with an irrepressible kinetic vibe, an Asian-centric slate of irresistible dishes, and one of the city's hippest staff of servers.
Address: 1126 Walnut Street, Philadelphia, PA 19107 (
Map
) - Tel:(215) 625-9535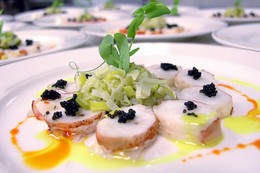 Only a few strides removed from the Forrest Theater in the gentrified neighborhood of Wash West, the Caribou Café corrals a hip mix of city crawlers, theater goers, local and national personalities, and plain old Philly folk. The festive décor in this vibrant slice of France frames the intoxicating upbeat insouciance that replicates the spirit and verve of the real-deal French café. The moderately priced menu focuses on regional everyday French standbys while simultaneously providing a gastronomic tour of France. Diverse delights from Alsace to Provence tempt the palate – all interpreted delectably by Maitre Cuisinier de France, Olivier Desaintmartin.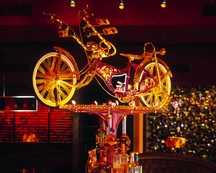 Stephen Starr, Philadelphia's most creative and successful restaurateur, has mastered the fine art of fun and phenomenal American-Mexican cuisine with his new haunt on 13th Street. Tacos get a facelift, desserts steal the show, fresh and flavorful margaritas keep the bar hopping, and made-to-order guacamole has the Philadelphia masses flocking through the doors all year long, but this isn't your typical Mexican joint. Vibrant, inventive and bursting with flavor, El Vez is an eye-opening experience far from the edible ordinary.