The Capital Grille - Wine List
The Capital Grille wine list is not available.

Recommended Restaurants
Address: 1623 Walnut Street, Philadelphia, PA 19103 (
Map
) - Tel:(215) 988-1799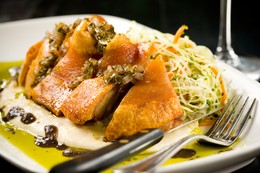 Alma de Cuba is a Latin vacation, right in the heart of Philadelphia. Located at 1623 Walnut Street, it's a perfect destination to pop into on the way home from work or for an elegant dinner. The lounge evokes sultry Miami nightlife with a mix of classic Cuban and contemporary elements including traditional drinks such as Caipirinhas and Classic Mojitos, which are always specially priced for Happy Hour. Upstairs, the balcony-style seating and classic décor promise a mellow and sophisticated ambiance. Chef Rodriguez adds novel twists to old world Cuban standards in his "Nuevo Latino" creations, such as Pan Roasted Muscovy Duck, Lobster Sancocho, and Lechon Asado. Plainly put, their just isn't any other place quite like Alma de Cuba.
Address: 1500 Walnut Street, Philadelphia, PA 19102 (
Map
) - Tel:(215) 732-4444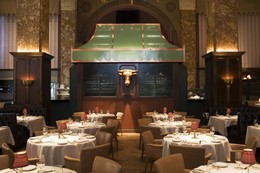 While Butcher and Singer invites comparisons to the finest steakhouses across America, this Philadelphia eatery is in a class by itself. With plush surroundings and unmatched service, Stephen Starr's newest venture delivers sumptuous dishes along with an unforgettable dining experience. Patrons are treated to a transformative meal in the well-appointed dining room and a wait staff that does more than simply serve; they contribute to the overall atmosphere of indulgence and enjoyment. One glance at Butcher and Singer's menu reveals that Chef Anthony Goodwin has achieved a rare balance between traditional and modern, while never straying from the highest culinary standards.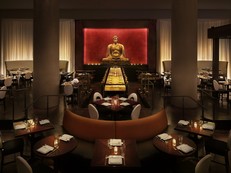 Exuding Zen-like swank and sunny swagger, Buddakan beckons foodies and scene-seekers alike. In 1998, Buddakan added drama and daring dining to Philly's historical district in Old City. Today, this cosmopolitan small-plate emporium is a major player in the scene – a de rigeur stop for celebrities, savvy tourists, and local devotees. The glamorous digs with the iconic 10-foot high gilded Buddha statue, silky walls, soaring ceilings, glamorous décor, and flowing water wall whirls with an irrepressible kinetic vibe, an Asian-centric slate of irresistible dishes, and one of the city's hippest staff of servers.